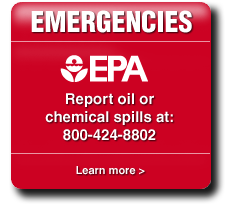 EPA Emergency Response Authorities
The National Oil and Hazardous Substances Pollution Contingency Plan, more commonly called the National Contingency Plan or NCP, is the federal government's blueprint for responding to both oil spills and hazardous substance releases (e.g., establishes the National Response Team; establishes the Regional Response Teams; establishes general responsibilities of federal On-Scene Coordinators; requires notification of any discharge or release to the National Response Center through a toll-free telephone number; authorizes On-Scene Coordinator to direct all federal, state, and private response activities at the site of a discharge, etc.).
In addition, EPA has a number of enforcement tools that can be applied to correct adverse situations to human health and the environment. The following is a list of the main emergency response authorities EPA can use to address actions that lead to an imminent and substantial endangerment.
Emergency Management
To ensure that the U.S. is better prepared for environmental emergencies, EPA is working with other federal partners to prevent accidents as well as to maintain superior response capabilities. One of EPA's roles is to provide information about response efforts, regulations, tools, and research that will help the regulated community, government entities, and concerned citizens prevent, prepare for, and respond to emergencies. Learn more.
Release Reporting
Each year, more than 20,000 emergencies involving the release (or threatened release) of oil and hazardous substances are reported in the United States, potentially affecting both communities and the surrounding natural environment. Emergencies range from small scale spills to large events requiring prompt action and evacuation of nearby populations. Timely reporting of spills and releases is extremely important. https://www.epa.gov/pesticide-incidents/how-report-spills-and-environmental-violations.
Reporting Potential Violations
If you observe what appears to be a violation of environmental laws and regulations, you can report such observations to EPA. The information will be forwarded to EPA environmental enforcement personnel or to the appropriate regulatory authority. https://echo.epa.gov/report-environmental-violations
More Resources
Drinking Water Cleanup. The Safe Drinking Water Act gives EPA authority to abate conditions in the water supply that may present an imminent and substantial endangerment to human health.
https://www.epa.gov/emergency-response This site summarizes the laws defining EPA's Emergency Management Program.
Emergency Response Authorities. The federal government's responsibilities for emergency response are established by statute and by executive orders issued by the President.
Guidance on Use of Section 303 of the Clean Air Act. EPA memorandum (9/15/1983).
Guidance on Use of Section 504 of the Clean Water Act: The Emergency Powers Provisions. EPA's guidance on use of Section 504 of the Clean Water Act.
Enforcement Response Policies. Listed below are EPA's Enforcement Response Policies relating to violations or noncompliance with environmental statutes and regulations. The list is not inclusive of all policy and guidance that may be relied upon in developing enforcement actions.
Policies and Guidance. This provides access to the national policy and guidance documents that relate to the enforcement of the environmental statutes and regulations and to the other enforceable requirements in the areas shown below.
EPA Memorandum. Final Guidance on the Issuance of Administrative Orders Under Section 311(c) and (e) of the Clean Water Act. Guidance on the issuance of administrative orders under Sections 311(c) and (e) of the Clean Water Act, as amended by the Oil Pollution Act of 1990.
Waste, Chemical and Cleanup Enforcement: EPA enforces a variety of environmental requirements related to pollution by waste and chemicals.